People who have Histamine Intolerance can experience a diverse range of different symptoms. A diagnosis requires at least 2 typical symptoms of HIT.
For more information about what to discuss with your doctor & what to consider before you start a low-histamine diet have a look at the first steps page.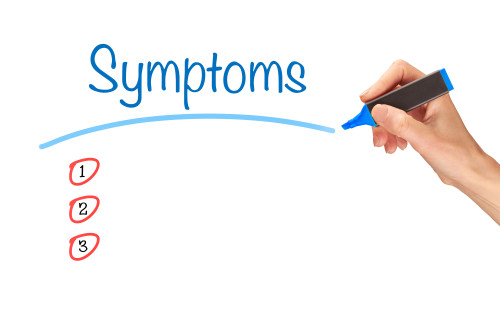 Digestive tract
Diarrhoea
Diarrhoea alternating with normal motions (Irritable Bowel Syndrome – IBS)
Chronic constipation
Flatulence and feeling of fullness
Stomach cramps
Stomach ache
Nausea
Vomiting
Symptoms affecting head and face
Headaches, similar to migraine
Runny nose and weepy eyes, although there is no clinical sign of allergies
Fits of dizziness
Extreme tiredness, feeling knocked out
Quinke Oedema (swellings mostly appearing around eyes and lips, sometimes in the area of the throat)
Flushing of face and/or chest
Skin problems
Skin rashes, itchiness
Eczema,
Urticaria
Acne (pimples)
Chest area
Asthma
Cardiac arrhythmia, such as a fast beating or irregular heart beat
Women
Dysmenorrhoea (severe period pains)
HIT symptoms go away during pregnancy and return after birth of child
Other symptoms
Chills and shivers
Low blood pressure
Circulatory collapse
Sudden psychological changes (e.g. aggressiveness, inattentiveness, lack of concentration)
Sleep disorder
You should check with the help of your GP (doctor or physician) for other intolerances of some specific foods or food groups, and allergies.
Your GP should automatically also check for any other underlying health issues.
Do not change any medication you have been given unless you have talked to your GP, and try to find alternatives with them if necessary.
Going on a diet and assuming you have HIT is not a useful way of tackling the problem.