What HIT me? Living with Histamine Intolerance
A guide to diagnosis and management of HIT – A patient's point of view
Author: Genny Masterman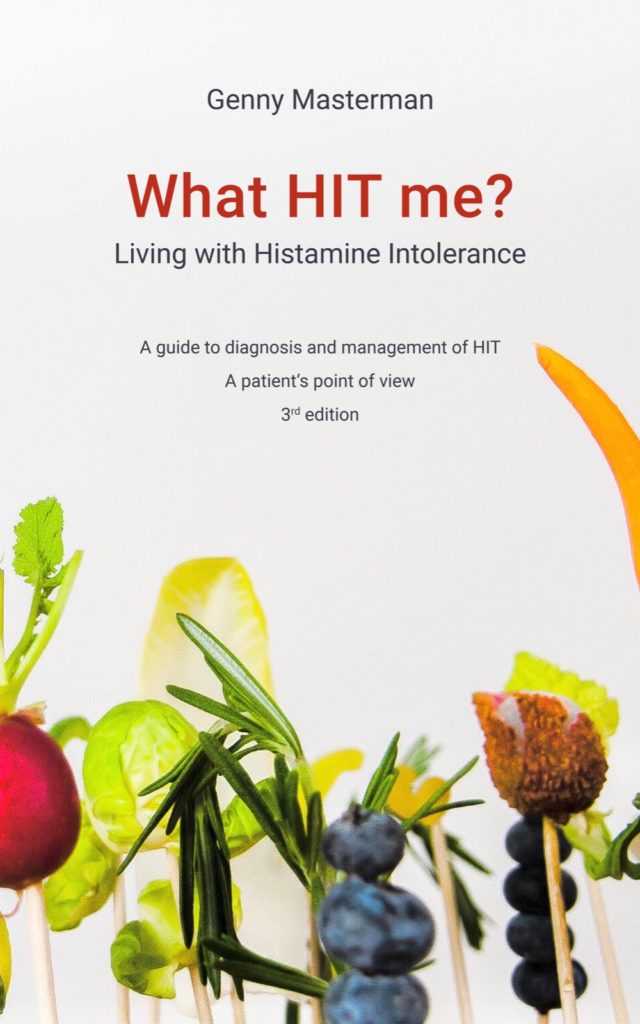 Publication date of 3rd edition: 3. May 2020
Paperback: 221 pages
Publisher: CreateSpace Independent Publishing
Available on Amazon
Buy Book (UK)Buy Book (USA)Buy Book (AUS)
About the Author
Genny Masterman is the founder of the Histamine Intolerance Awareness Campaign. She is an Associate Producer, Researcher and Journalist in the UK with a strong connection to the German language area. She has worked on over a hundred television documentaries for clients such as the BBC, CBS, ITV, Channel 5, the Travel Channel, the Austrian media and many independent production companies in the UK, US, and Canada. These include work as a Fixer on programs such as Top Gear, Who Do You Think You Are? with Marianne Faithful, Extreme Railway Journeys with Chris Tarrant, Richard Ayoade's Travel Man – 48 hours in Vienna with Chris O'Dowd, George Clarke's Amazing Spaces, Paul Merton in Europe, Al Murray's Why Does Everyone Hate The English? with Henning Wehn and many more.
In 2007, after suffering for several years, she was diagnosed with histamine intolerance (HIT) and fructose malabsorption while in Austria during the production of a BBC documentary. Soon after her return to the UK she became aware that HIT is very low on the public radar in the UK in comparison to some countries in mainland Europe. She decided to change this. She gathered information, including the food lists, cooperated with experts and medical specialists in HIT from the German language area, and wrote a book documenting her story. Genny's book "What HIT me? Living with Histamine Intolerance" was first published in January 2011. It has been regularly updated and is now in its 3rd edition. It is available on Amazon in English, German and Spanish. Up to now it has sold over 11.000 copies world-wide. It was the first comprehensive guide on the subject in the English language area. She continues to work in her spare time on raising awareness. She has made a full recovery from HIT.
About the Book
HIT – Histamine Intolerance – is a condition that affects many people but remains largely undiagnosed. The symptoms can appear very like an allergy and can cause stomach and intestinal complaints, migraine, tiredness and skin problems, to name but a few. This is in most cases because of the reduced activity or low presence of an enzyme called diamine oxidase (DAO), which is mainly responsible for breaking down histamine and other biogenic amines ingested through food. Foods that are known culprits include: red wine, ready meals, cured meats, mature cheeses, tomatoes and aubergines. It can make people's lives very difficult. But it CAN be brought under control with the RIGHT DIAGNOSIS and the RIGHT DIET. This book is a guide to how to achieve both. It helps both health professionals and patients gain insight.
After the great success of the first edition, this second edition contains a new section on the different points of view about diagnosis as well as a second food list – a tolerance index which resulted from a survey of 800 participants who judged 109 foods according to their individual threshold – side by side with the scientifically based food list.
Contents
Introduction
Histamine Intolerance – In a nutshell
How do I find out if I have HIT?
Other intolerances -DAO and its closest friends and helpers
What HIT is not
Specially for the ladies – HIT's favourite targets
How do I find out what to eat or not?
What do I need to do at home?
How do I keep the family happy?
How can I deal with this at work?
What do I need to keep in mind when shopping?
What consequences are there for my social life?
Meat – the good…the bad and the ugly
Fish – the good… and the ugly
Milk and Dairy Products – essentials
Fruit & Vegetables – the little labyrinth
Bread & Baking
The problem with alcohol!
Pharmaceuticals, food additives, E-numbers and other culprits
Food lists and supplements
Short summary of therapy options
Recipes
The Food Diary
Review
This book has all the potential to empower those affected by this debilitating condition to make a fresh start in life. A compelling personal story with a wealth of information. –Society for Public Health (Gesellschaft für Öffentliche Gesundheit)
GERMAN EDITION – translation of the second edition of "What HIT me?"
Leben ohne Schmerzen – Der Weg zu Diagnose und Management der Histaminintoleranz: Aus der Sichtweise einer Betroffenen

Erhältlich bei Amazon
Erscheinungsdatum:
20. November 2013
Taschenbuch: 228 Seiten
Verlag: CreateSpace Independent Publishing Platform
ISBN-10: 1493671677
ISBN-13: 978-1493671670
SPANISH EDITION – translation of the second edition of "What HIT me?"
¿Qué me pasó? Vivir con intolerancia a la histamina: Una guía para diagnosticar y controlar la IH – El punto de vista de una paciente
Available on Amazon
Tapa blanda: 220 páginas
Editor: Createspace Independent Publishing Platform; Edición: 2 (24 de agosto de 2016)
Idioma: Español
ISBN-10: 1535275448
ISBN-13: 978-1535275446

Food Intolerances: Fructose Malabsorption, Lactose and Histamine Intolerance
living and eating well after diagnosis & dealing with the elimination diet
Authors: Michael Zechmann, Genny Masterman
Publication date of 1st edition: April 3, 2013
Paperback: 138 pages
Publisher: CreateSpace, 2013
ISBN-13: 978-1481020312
ISBN-10: 1481020315
About the authors
Michael Zechmann (M.Sc.) and Genny Masterman are both affected by multiple food intolerances and have been active for years in the field of intolerances as authors, journalists and scientists. They want to help you to find your own way to deal with the first difficult weeks after being diagnosed with fructose malabsorption – the time when you need to follow the so called elimination diet.
About the Book
Abdominal pain, nausea and diarrhoea belong to the most common symptoms of food intolerances. Patients often suffer for years before they get the right diagnosis. And even after a correct diagnosis, most patients are left to fend for themselves. This guide offers you help and advice!
It is a guide and cook book for people suffering from fructose malabsorption (and lactose or histamine intolerance). It includes info about food intolerances, food tables and recipes suitable for fructose, histamine, lactose intolerance and gluten sensitivity.
Histamine Intolerance: Histamine and Seasickness Hardcover
by Reinhart Jarisch
Publication date of 2015 edition: 4 Dec 2014
Hardcover: 155 pages
Publisher: Springer
Language: English
ISBN-10: 3642554466
ISBN-13: 978-3642554469
From the Back Cover
Histamine is an important mediator of allergic diseases such as hay fever and bronchial asthma, food allergies, urticaria, and drug hypersensitivity. Knowledge of histamine as a cause of numerous non-allergic symptoms and signs is, however, limited. In fact, histamine intolerance can be responsible for conditions as diverse as seasickness, headaches and migraine, tachycardia, gastric disorders, diarrhea, intolerance to contrast media, parodontosis, period pains, nausea and vomiting in pregnancy, atopic dermatitis, and osteoporosis.
This book offers wide-ranging coverage of histamine intolerance. There is extensive background discussion of the origin of histamine, its content in food and alcoholic beverages, and intolerance to red wine. Diagnosis of histamine intolerance is explained, and the various symptoms of histamine intolerance are clearly described. Subsequent chapters cover the conditions mentioned above and also consider the relation of histamine to vitamin B6 and the specific immunotherapy of allergies.
This book will prove of value in clinical practice by facilitating differential diagnosis, which is by no means straightforward given the multiplicity of symptoms of histamine intolerance, and by assisting in the selection of therapeutic measures.
About the Author
After gaining his MD from the School of Medicine, University of Vienna, in 1970, Dr. Reinhart Jarisch undertook clinical traineeships in Denmark and the United States and postgraduate training at the Department of Dermatology, University of Vienna. He was appointed Assistant Professor in 1980, and from then until 2011 was Head of the Floridsdorf Allergy Center. In 2005, he was appointed Extraordinary Professor by the University of Vienna. Dr. Jarisch has served as Head of the Committee for Clinical Allergology of the Austrian Society of Allergology and Immunology (ÖGAI). He is the recipient of five medical awards, including the Clemens of Pirquet Medal from ÖGAI for life-time achievements in allergology. Dr. Jarisch holds three patents and is the author of 139 articles in peer-reviewed journals as well as the book Histamin-Intoleranz, Histamin und Seekrankheit (Histamine Intolerance, Histamine and Seasickness), now in its third edition.